Volume 04: Out of the closet and completely free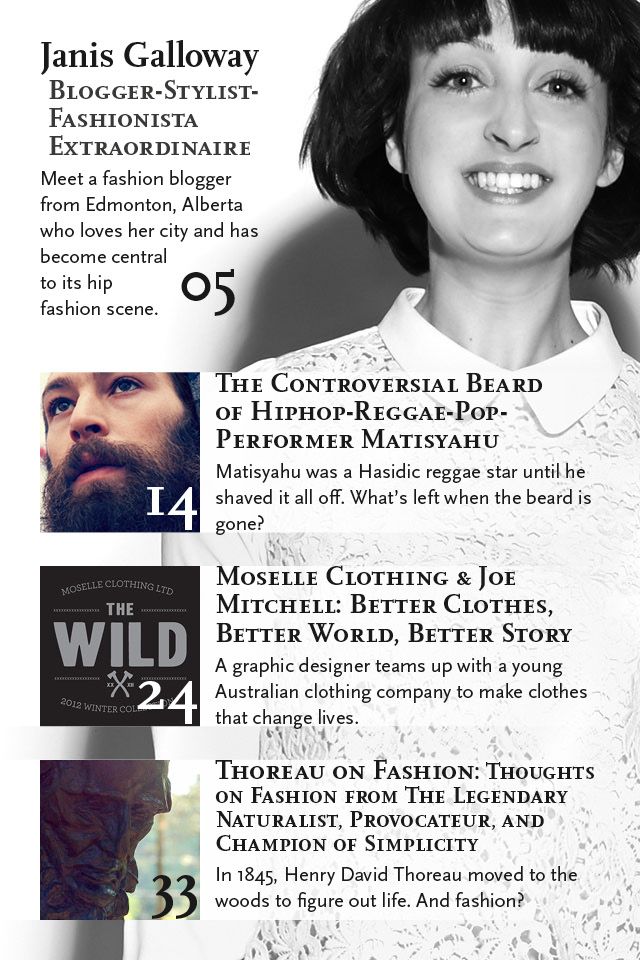 I recently published Volume 04 (titled Looking Good) of OCSPLORA: The Creative Revolutionary's Handbook to subscribers and I've decided to make it free to the world. Now you don't have to be a subscriber to see what OCSPLORA is all about. If you are a subscriber, you should know that this is a one-time thing. Your subscription still matters!
You can download Volume 04 from this page.
The theme of this volume was the brainchild of my friend and fellow OCSPLORA contributor, Stacey K. She pitched two interviewees, one an up-and-coming fashion blogger in her home city of Edmonton, Alberta, and the other a friend and graphic designer who had worked with a socially-conscious clothing company to design a line of cool tee shirts.
Stacey pursued both those interviews while I became slightly obsessed with an orthodox Jewish reggae rapper named Matisyahu. I had heard of him a while back, but never really got into his music. Somehow I found out he had recently shaved off his beard (a defining characteristic I remembered) and released a new album, so I checked it out and really liked it. I dug deeper into the beard thing and decided it could sorta fit into the fashion theme of the volume.
The two interviews came in really well. Janis had some great tips for following your dreams, growing a blog, and embracing your hometown, so it wasn't just a fashion piece. Joe talked about how to hold your favorite clothing brands to a higher standard. And the company he had worked with, Moselle, had a really cool and interesting story as well.
Earlier that summer, Stacey had come to Boston to hang out with us and go to a big summer music festival featuring one of her favorite bands. We took her to Walden Pond where she learned about Henry David Thoreau for what she claims was the first time in her life. When she got home she started reading Walden and told me there was some stuff about fashion in there we should write about, so I did. And that became the fourth story for Volume 04.
I hope you enjoy it! And if you know anyone who has the skills to turn OCSPLORA into a mobile app like The Magazine, or can some info about that kind of stuff, please give me a shout.